Art & Crafts of Benaras
Art, craft, music, literature, dance and textile traditions of Varanasi date back to thousands of years of glorious history. The most renowned craft of Varanasi city is silk weaving. 'Banarasi Sarees', produced by local craftsman are among the most preferred, not only in India but also all over the world. Besides the famous Benarasi Sari, brassware, copperware, ivory work, glass bangles, wood, stone and clay toys and exquisite gold jewellery are some of the other crafts Varanasi city is famous for. Among the other attractions of Varanasi and surrounding areas are the Bhadohi Carpets and musical instruments.
Banarsi Saree
A Banarasi saree made in Varanasi are among the finest sarees in India and are known for their gold and silver brocade or zari, fine silk and magnificent embroidery. The sarees are relatively heavy as they are made of finely woven silk and are decorated with intricate design and engravings.
Their special characteristics are Mughal inspired designs such as intricate intertwining floral and foliate motifs, kalga and bel, a string of upright leaves called jhallar at the outer, edge of border is a characteristic of these sarees. Other features are gold work, compact weaving, figures with small details, metallic visual effects, pallus, jal (a net like pattern), and mina work.
Antiques
Antique fashions come alive in the city with exquisite work and ancient embroidery techniques, known as 'kal balta' and 'khinbab'. The craft culture of Varanasi is often associated with myths and legends. They display unique sense of aesthetics that reflect deep Indian flavour. Pink enamelled 'minakari' jewellery and artefacts form the most famous and exclusive arts of Varanasi. Pattern, motifs and weaves of the past can still be found living in the works of the traditional weavers of Varanasi. What makes their work more interesting is the fusion of traditional designs and techniques with contemporary elements.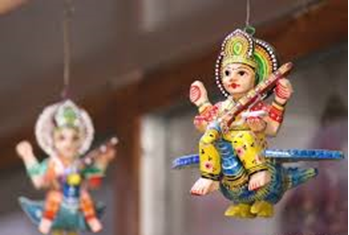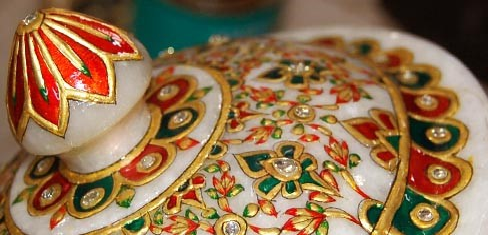 Music & Dance
The history of music in Varanasi is long and antiquity of its origin is very complex and could not be traced yet. However, Hindu mythology describes the city as the capital of learning and Puranic tales. Several references of musical and dance culture have found way in Indian mythology.
'Dhrupad', considered a specialty of Banarsi music along with 'Dhamar', 'Hori' and 'Chaturang', has been the royal music of Varanasi since 16th century apart from music festivals like 'Jhoola', 'Jhoomer', 'Kajri', 'Dangal', 'Gulab Bari' and music festivals on boats. A number of 'Gharanas' or families and legacies of Indian classical music are famous in the city. The tradition of their style of music has been maintained from generations.
Varanasi has rich folk music, which includes 'Bidesia', 'Lachri', 'Badhaiya', 'Fauwara', 'Gauri', 'Ghori', 'Lachchan', 'Maand', 'Sawani' and 'Kajri'. Internationally famous Bharat Ratna 'Shehnai' maestro Ustad Bismillah Khan, Ram Sahai, the 'tabla' player who developed his own style known as 'Banaras Baaz', Pakhawaz and Mridanga masters, such as Madan Mohan and Bhola Nath, Sitar maestro, Pandit Ravi Shankar, late Ustad Ashiq Ali Khan, the great Sitar player, all belong to Varanasi and are just some of the few from the long list of famous musicians who have earned name and fame in India and worldwide.\
Kathak maestro Birju Maharaj is also related to Varanasi, and the legendary family of Sukhdeo Maharaj has contributed immensely in earning international acclaim for dance. Other prominent artists related to the city of Varanasi include Tara, Sitara, Alaknanda, Gopi Krishna, Mohan Madhavi, Ram Krishna, Durga Lal, Mala sisters and more.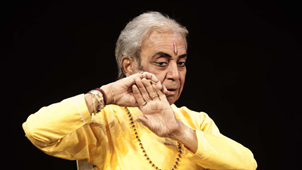 Carpet Industry
The city of light Varanasi and its nearby areas/towns are famous for carpet making, handicrafts, weaving and designing various fibre based items for use and for decoration. The Varanasi-Bhadohi-Mirzapur belt in Uttar Pradesh state is a unique combination of cities and towns as it produces maximum number of carpets and textiles in the country. The carpets produced in Varanasi region are famous for the excellence in quality and design. Every carpet that is woven here has a distinctive grace and unmatched style that clearly displays the finest art of carpet weaving tradition of Varanasi and its surrounding areas. The people of this belt who have taken weaving and handcrafting as their business are the ones doing this work from generations to generations. It is family clan based profession out here. This carpet belt specializes in traditional Indian woolen carpets and Durries. The Bhadohi carpets match the gracefulness of carpet weaving in any part of the world and are distinguished for their beauty and elegance and are worth buying. The stylish and quality of the carpets also proves the genius of the traditional carpet weavers of Varanasi region. Bhadohi based organizations account for about 75%t of the Rs 44 billion of total carpet exports from India. Carpet weaving in Bhadohi-Mirzapur region dates back to the 16th century, during the reign of Mughal Emperor, Akbar and is believed to have established when centuries ago, some Iranian master weavers stopped at Madho Singh village, near Khamria, in Bhadohi while travelling in India, and subsequently set up looms here.